Tomorrow is the eve of the Lunar New Year, and 2012 is year of the Dragon. Chinese New Year's Eve is the most important of Chinese holidays, and it is imperative that your family be together for a reunion dinner on this day. I will be spending the evening with my in-laws, giving li xi (red envelope) to younger family members and children, and eating tangerines for good luck.
Red is a lucky color in Chinese culture, and I will be wearing red to celebrate the occasion. (Black is considered unlucky and should not be worn on this day).
Using a dishcloth chart from
Aunt Kathy
, I knitted this bag .
I CO the number of stitches required for the dishcloth, knit in garter for a few rows to keep the top from rolling, knit stockinette until it was about the length I wanted, then started the dragon chart. Then I did a few more rows of stockinette and finished with the garter stitch again. I folded it over and seamed up the sides. I made the handle using my Wonder Knitter.
Here are a few CNY appropriate patterns for you to knit or crochet.
by HappyBerry
Red Dragon Toy
from Happy Berry Crochet. You must "like" their Facebook page to access the pattern.
By Jen AKA Lookingglass
Peach Blossom Baby Jacket
from Looking Glass Knits.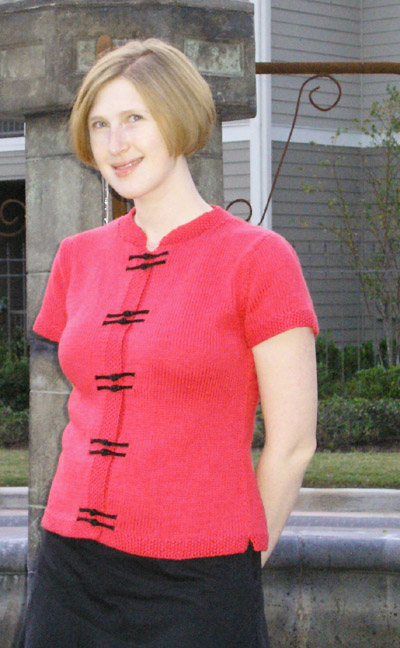 by Byrnne Sutton
"Festive"
by Brynne Sutton, from the Winter 2005 edition of Knitty